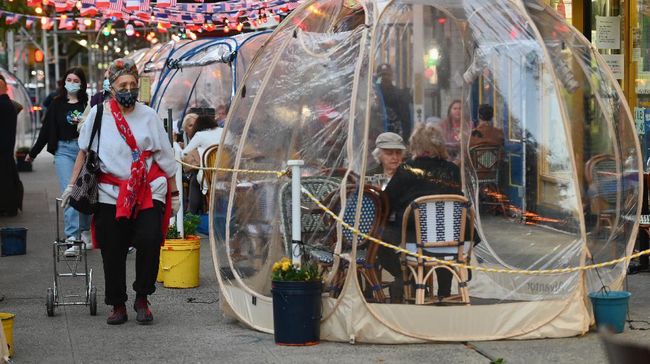 The United States government has announced that it will no longer control the coronavirus pandemic. They are currently focusing on procuring a vaccine for the virus.

This was conveyed by the White House Chief of Staff, Mark Meadows at an event held on Sunday (25/10).

"We will not control the pandemic. We will control the fact that we are getting vaccines, therapies and other areas of mitigation," he said as quoted by CNN, Tuesday (27/10).
This expression received responses from various parties, one of which was Professor and Director of the Center for Sustainable Development at Columbia University, Jeffrey D. Sachs.

He expressed his concerns in an article in the opinion column published by CNN Monday (26/10). In his writing he said that the President of the United States, Donald Trump had given up and left the battle against corona.
"I am sure he will be remembered as the greatest presidential failure in American history," wrote Jeffrey.

Trump has previously admitted that he deliberately underestimated the corona pandemic in Uncle Sam's country on the pretext of not wanting to make the public worry.

Jeffrey said that was a form of ignorance. He said Trump's stupidity in facing a pandemic can be seen when he prefers to save the economy rather than the safety of his citizens.
According to Jeffrey, Trump may have given up tackling the coronavirus pandemic, but most Americans haven't.

"We are ready to wear masks, to be tested, maintain social distancing, isolate ourselves if necessary, maintain the security of our offices and shops," he said.

To this day the United States is still the country with the highest number of positive corona cases in the world. Judging by data from the Worldometer website accessed Tuesday, the number of corona virus cases in the US has almost touched 9 million and 231,045 deaths.
At the end of last week, nearly 80 thousand positive cases of Covid-19 were confirmed in the United States within 24 hours. Even as infections spiked, masked rules in the US were still ignored.

Infectious disease expert Anthony Fauci urged the Trump administration to establish a policy of wearing masks across the US. Fauci considered this policy very important to prevent the spread of Covid-19 in the US which continues to worsen.